Mumbai:
He is the "other Steve", but to geeks around the world, he is the real deal; the man who practically invented the personal computer and changed the world. Steve Wozniak,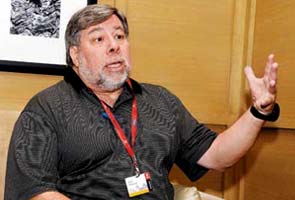 supreme geek of the 1970s and the maker of the Apple II computer which brought about a worldwide computer revolution, was in Bangalore on Saturday to speak to a bunch of young entrepreneurs and achievers of the Young Presidents Organisation who wanted to hear the story of the most-loved technology brand in the world -- Apple.
Wozniak co-founded Apple Computer (now Apple, Inc) in April 1976 along with Steve Jobs and Ronald Wayne. Both Apple I - the company's first product - and the hugely successful Apple II (arguably the world's first fully-loaded personal computer) were designed by Wozniak making him - and not Jobs - the darling of geeks around the world.
obs may have created the Apple brand, but it was Wozniak's initial work on the company's first two products that made Apple a multi-million dollar company within a year of its founding. Now 61 years old, Wozniak is still an Apple employee with a minimum pay and goes around the world representing the company - giving speeches and mentoring young engineers.