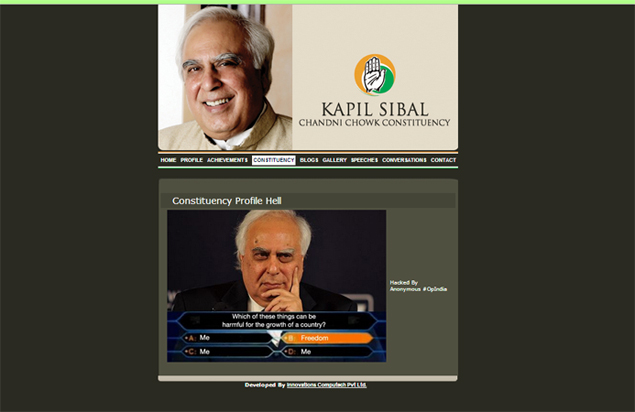 The website of India's Union Minister for Communication, Information and Technology has reportedly been hacked. Notorious hacking group Anonymous claimed responsibility for the attack.
In their latest attack on Friday, the hacking group managed to hijack Kapil Sibal's official website kapilsibalmp.com.
The about page of the website was hacked to read: "Kapil Sibal is the world's biggest retard. Born with a below 60 IQ he thought he could mess with the Internet and let the elite of his party suppress freedom of speech."
While the Constituency page of this website has a picture of Kapil Sibal playing the popular television game 'Kaun Banega Crorepati' (KBC). The question reads as 'Which of these things can be harmful for the country?' And the four options listed are Me, Freedom, Me and Me. Freedom amongst these four options has been highlighted as in the game to connote the right answer.
Anonymous claimed responsibility for the attack via their Twitter account @opindia_revenge saying they hacked the website because "He (Sibal) had used the words 'Victims of freedom of Expression'. He is hiding the fact that #66A is breaking the internet media."
As of writing this report, the site has been taken down and the message reads: "This website is currently under maintenance."
Earlier in the month of June, the Anonymous had hacked into Relaince servers and Reliance Communications customers were unable to access Facebook, Twitter and other sites for several hours. Later in the month, MTNL's website became their next victim as the hacking group claimed that they were opposing "censorship" of the Internet.
This group also held protests in several Indian cities in June 2012 against what they claimed as 'growing censorship of Internet by the government' in the country. Held under the banner of worldwide group of web hacking activists 'Anonymous', youngsters wearing 'Guy Fawkes' masks held protests in 16 cities including Bangalore, Pune and Chandigarh, the group claimed on their website.
---------------------------------------------------------------------------------